A Holiday Tree Without the Hassle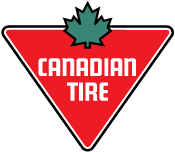 Decorate and Deliver provides local businesses and community members with a professionally decorated tree brought to their location to enhance the spirit of the season! Our "Festival Elves" deliver and set up the tree, so the customer has absolutely no work to do to get into the festive mood. Once the season is complete, our Elves return and remove the tree to ensure a hassle-free experience. The hardest part is selecting which tree you want!  
Ordering your holiday tree with the University Hospital Foundation's Decorate and Deliver, presented by Canadian Tire,  not only allows you to have an affordable, professionally decorated office or showroom for the holidays, but also supports the Festival of Trees cause.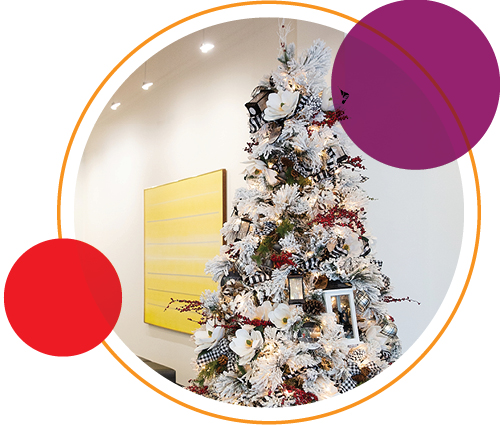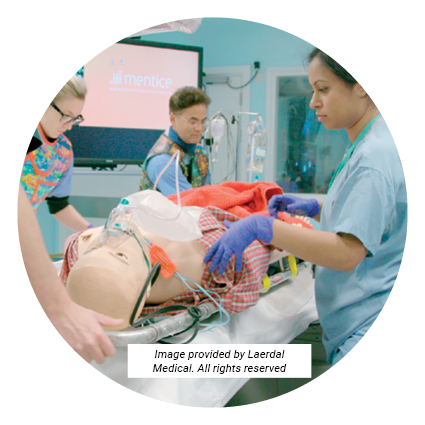 The funds raised at the 2023 Festival of Trees, presented by Landmark Homes will support two areas of innovation at the University of Alberta Hospital:  
With a new, state-of-the-art Simulation (SIM) Lab, our healthcare teams will be able to practice, refine and practice every step of every procedure and interaction under every condition imaginable.

 
Remodeling the Fourth Floor Atrium into an inclusive space of peace and comfort will provide patients, family members, staff and physicians alike a chance to step away from the high-intensity hospital environment. 

 
To select your tree or to request to get involved in the Decorate & Deliver program, please fill out the form at the bottom of the page. 
For any questions related to Decorate & Deliver or for additional information, please email decorateanddeliver@givetouhf.ca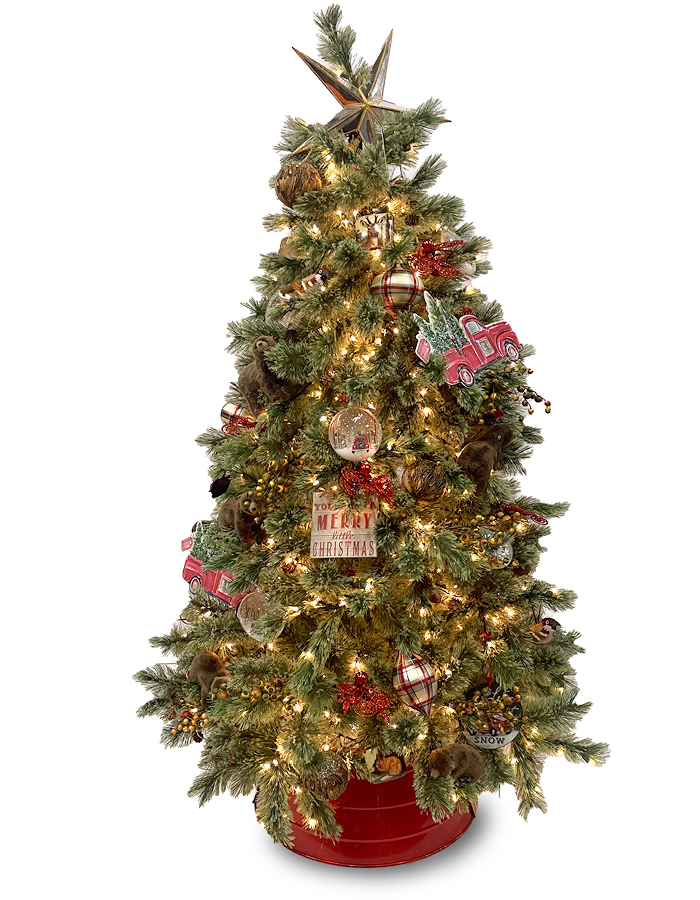 Tree #01
A Beary Merry Christmas
6ft / Green Tree with lights 

 

Natural, Traditional Red color scheme, Trucks and Bear ornaments 

 
2 pieces includes tree and red metal skirt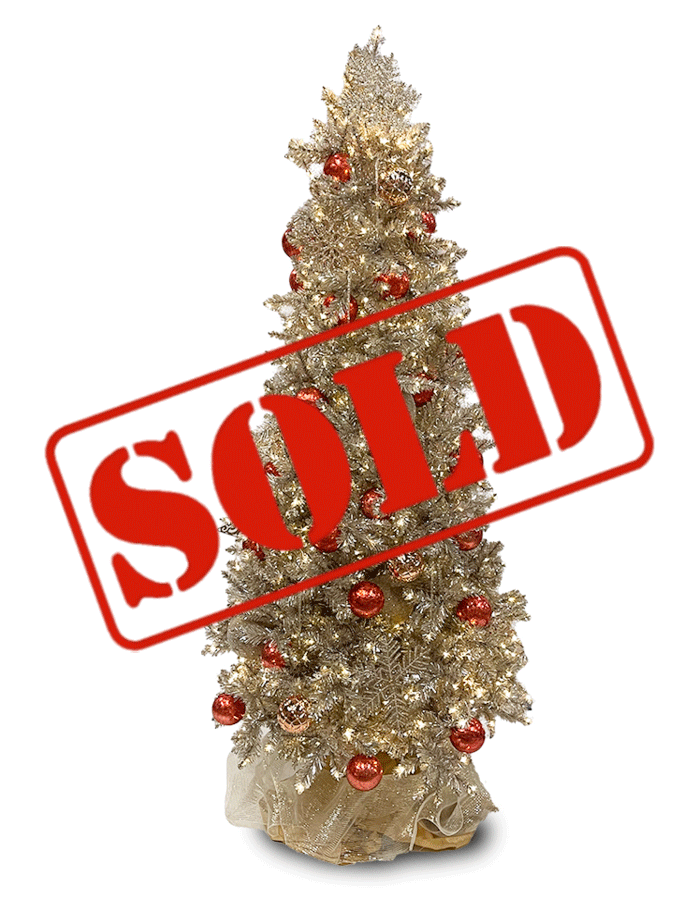 8ft / Gold Tinsel with lights

 

Gold and Copper/Red Color scheme

 

Gold Ornaments with Red/Copper Ball Decorations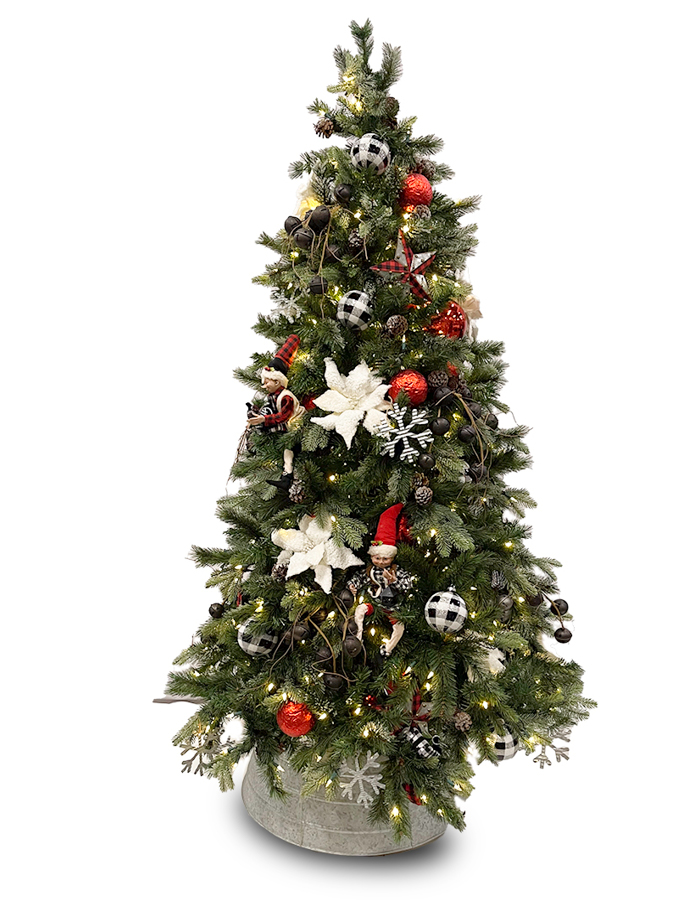 Tree #03
Elfing Around the Christmas Tree
7.5ft / Green with lights

 

Red, White and Black color scheme

 

White Poinsettias, Elves and black and white ornaments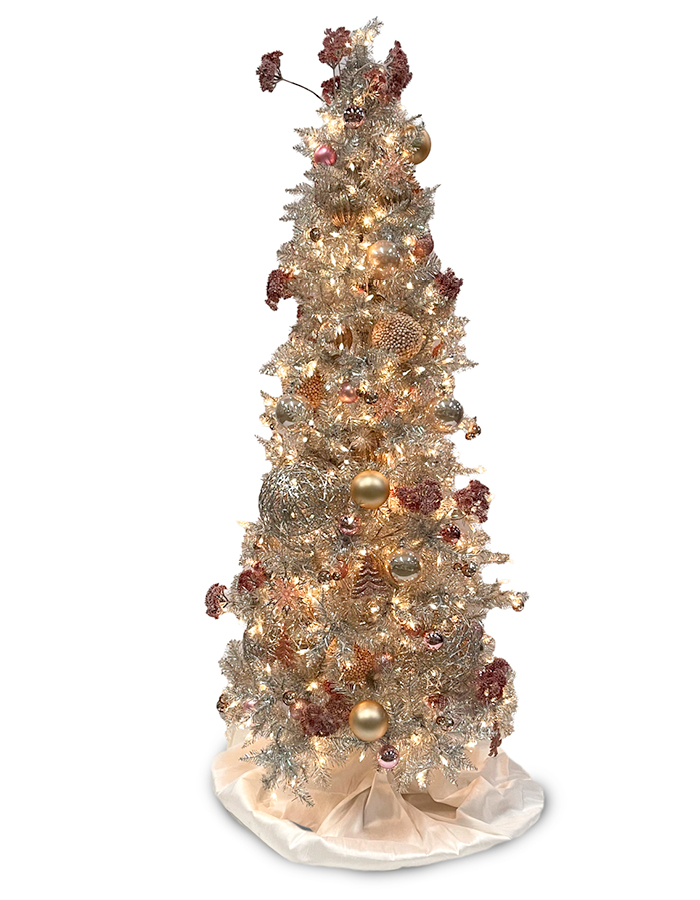 7.5ft / Silver Tinsel with lights

 

Pink and Silver color scheme 

 

Black and Silver ornaments with black velvet poinsettias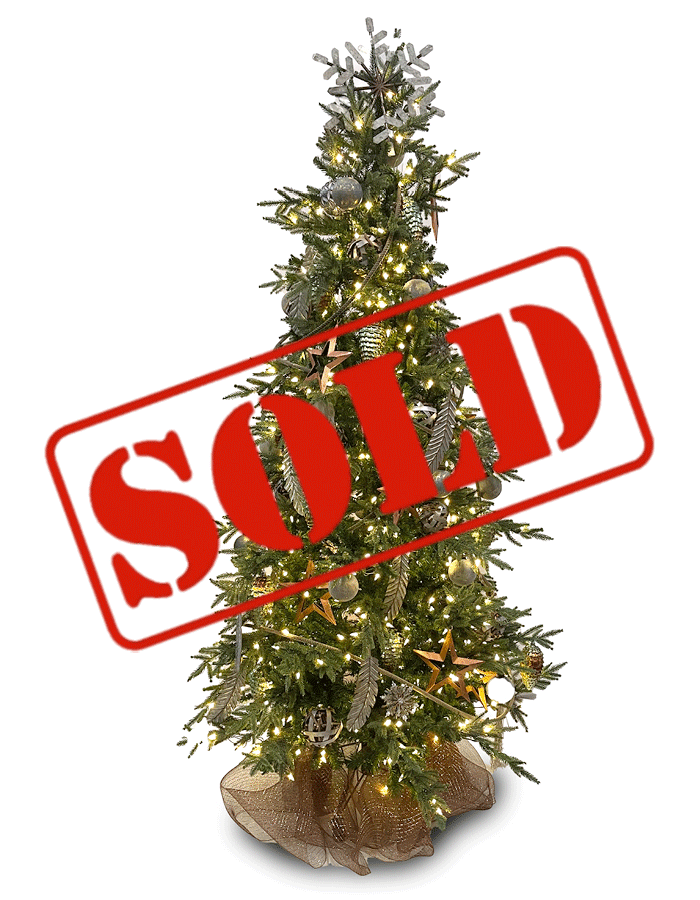 Tree #05
Holiday at the Ranch
7.5 ft/Green pre-lit tree

Gold, Silver, Bronze decorations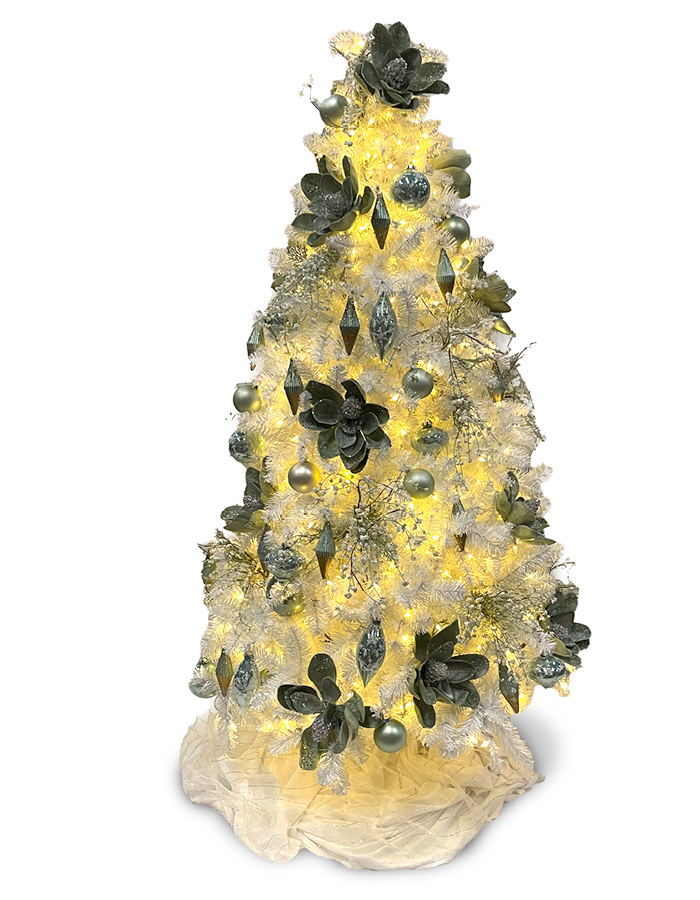 7.5ft / White Tinsel with lights

 

White, Silver and Sage Green color scheme

 

Sage Green and Silver ornaments with sage green flowers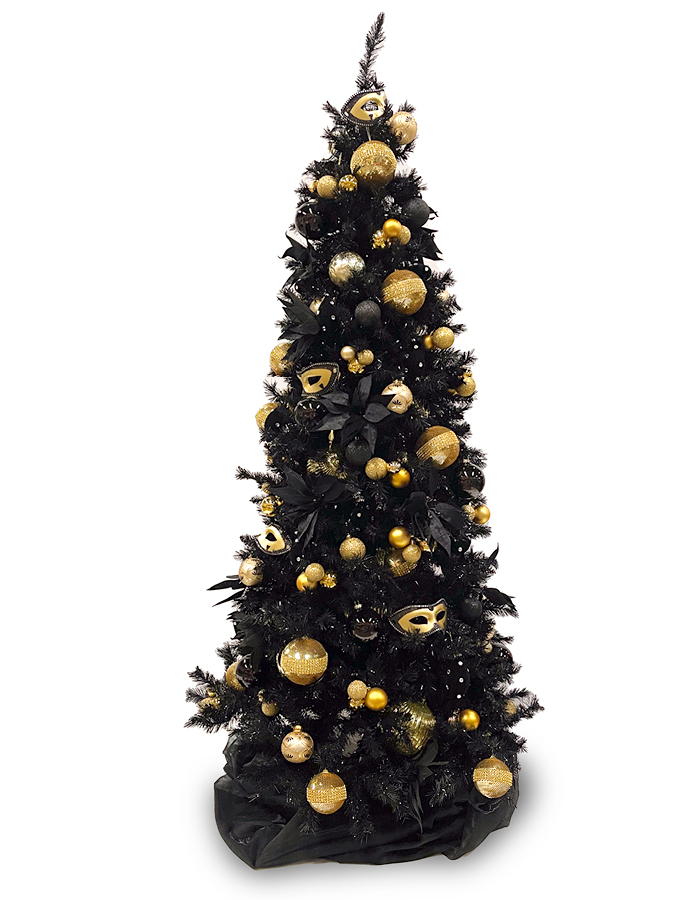 7.5ft / Black Tinsel with no lights 

 

Black and Gold color scheme 

 

Black and Gold ornaments with masks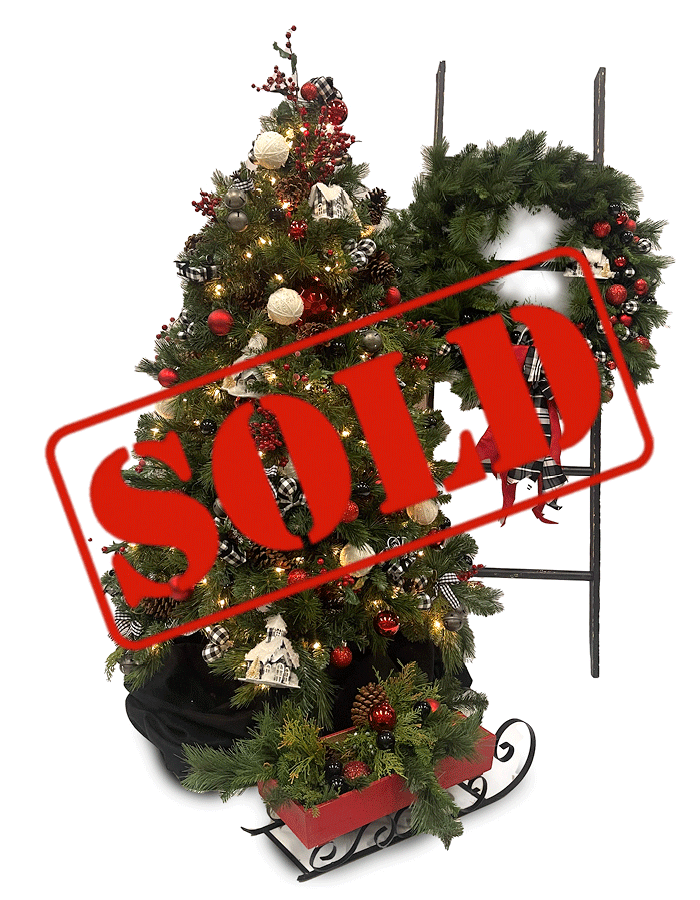 Tree #08
New England Christmas 
5ft / 5 Pieces: Tree, Sleigh, Wreath, Ladder and Black Fabric Skirt 

 

Red, white and Black Color Scheme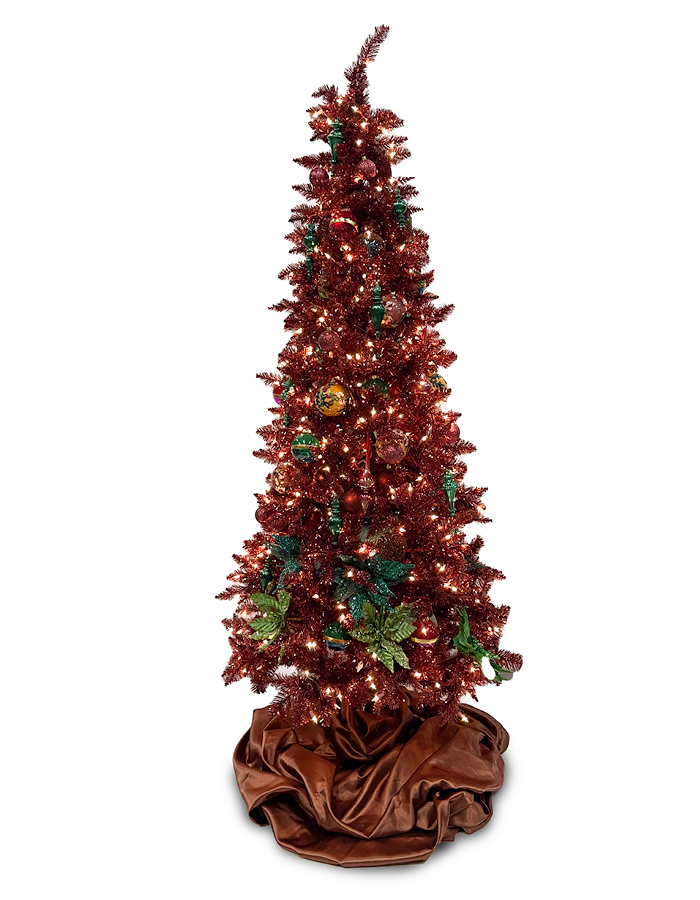 7.5ft / Burgundy/Wine Color Tree Pre-Lit 

 

Burgundy and Teal Color scheme 

 

Teal Green Poinsettias and Ornaments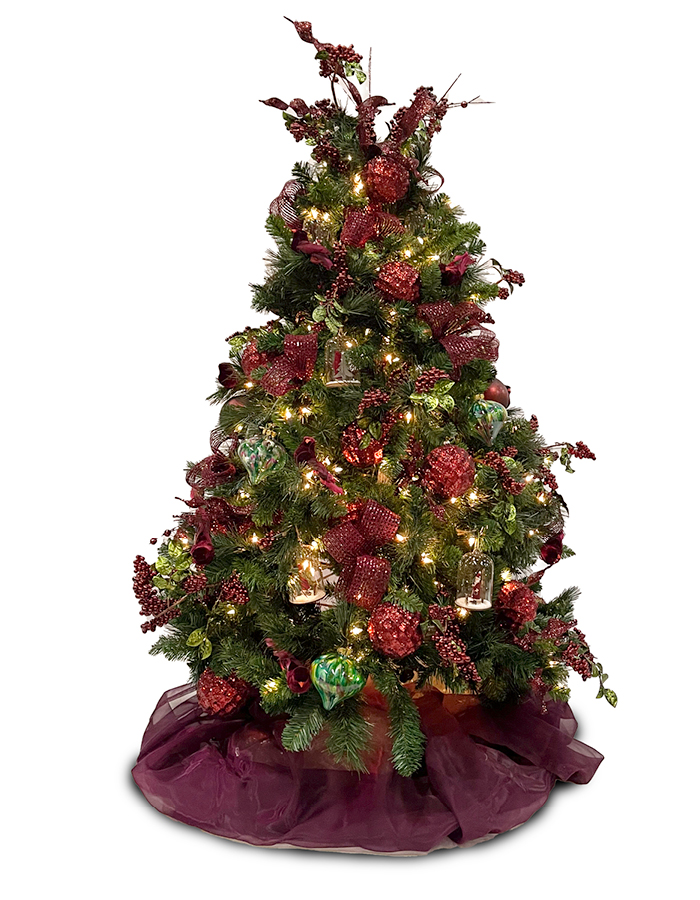 5ft / Green Tree with Lights 

 

Burgundy/Wine Color Scheme 

 

White Cylinder Snowglobes with burgundy-colored ornaments and ribbon

 
7.5ft / Green with lights

 

Purple and Gold Color scheme 

 

Purple Poinsettias, Gold Ornaments and Ribbon with Lavender Fabric Skirt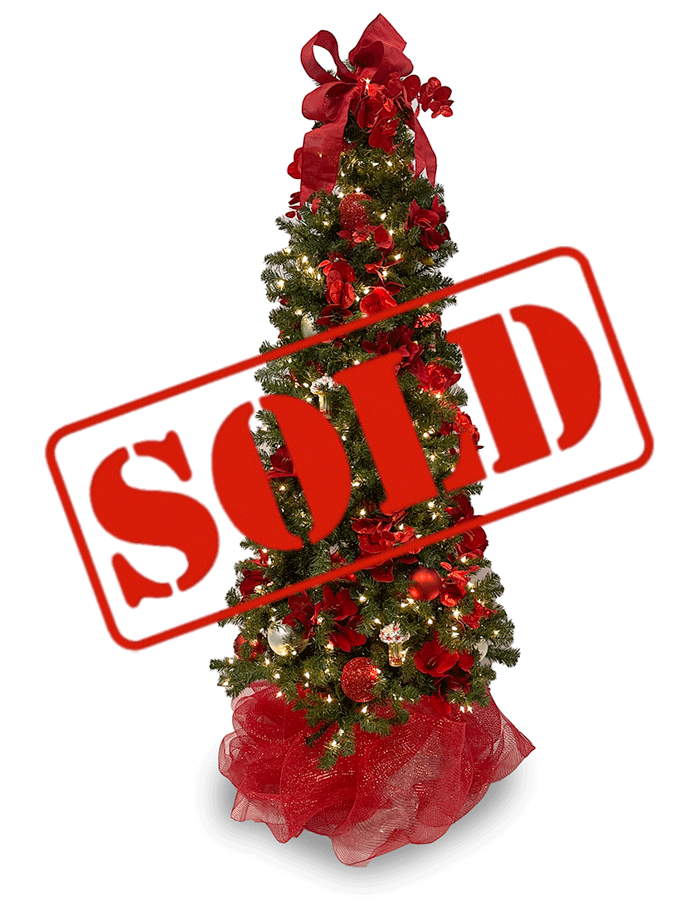 Tree #12
Scarlett Magnolia
8ft / Green with lights

 

Red, White Color scheme

 

Large Red Magnolia Flowers, White and Red Ornaments and a Red Ribbon Topper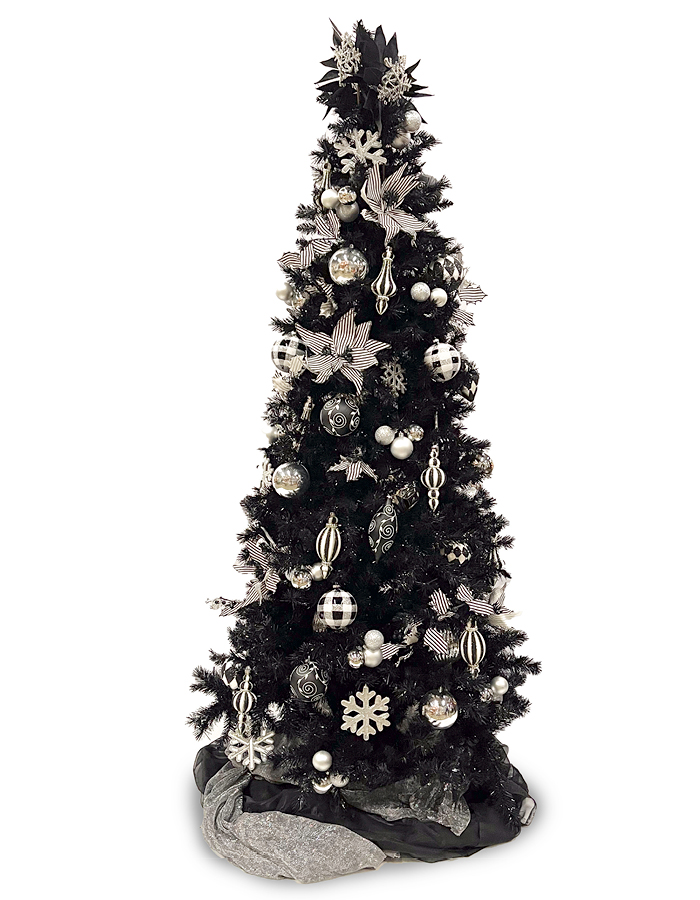 7.5ft / Black Tinsel with no lights 

 

Black and Silver color scheme

 

Black and Silver ornaments with black velvet poinsettias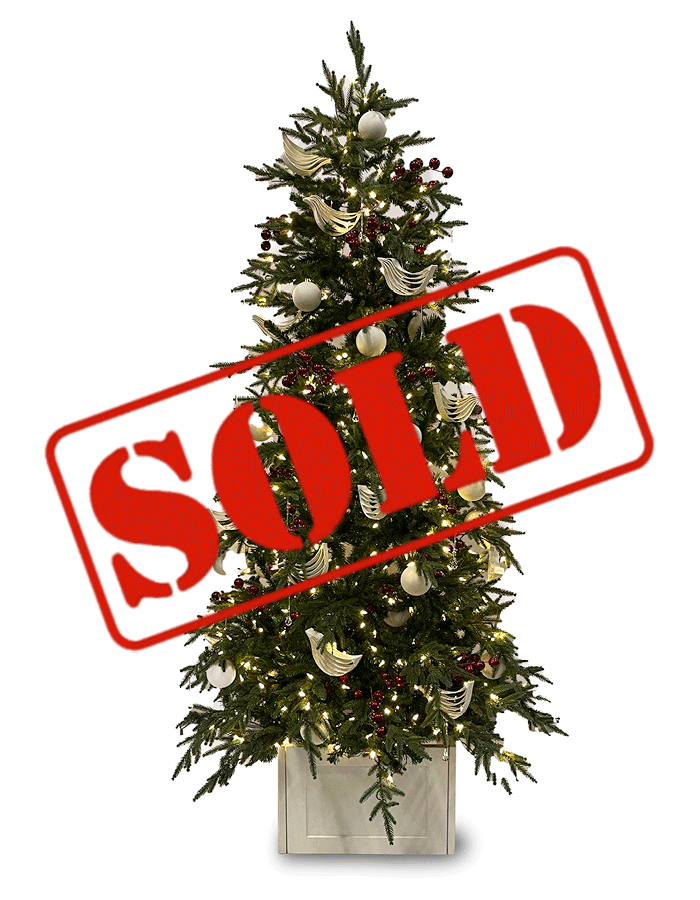 Tree #14
Simply Scandinavian
8ft / Green Pre-Lit

 

White and Red color scheme Glass and White ornaments with Red Berries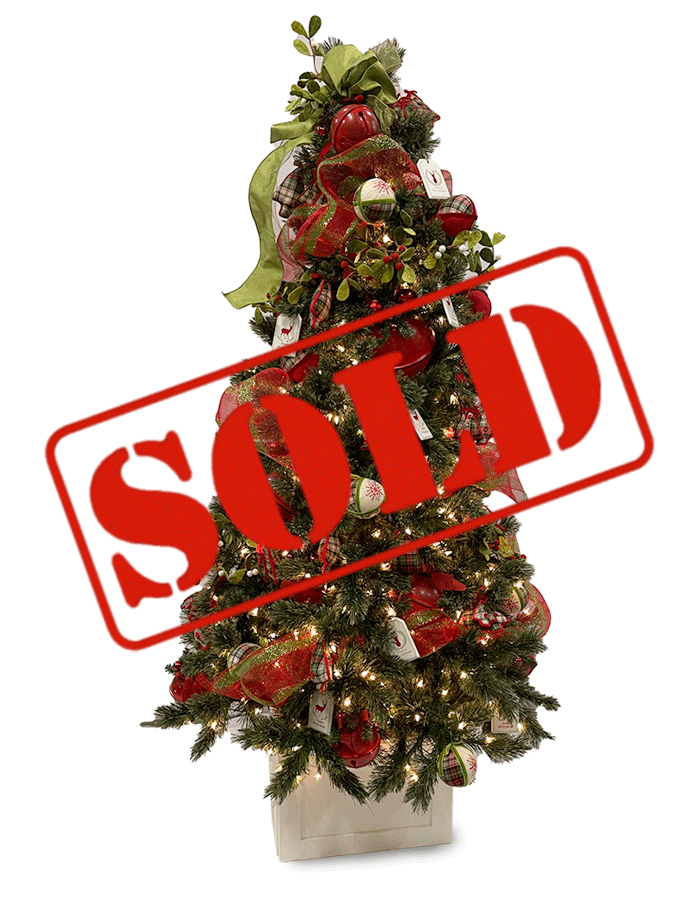 Tree #15
Sleigh Bells Ring
8ft / Green with lights

 

Red, White and Green color scheme

 

Large Red Sleigh Bells, Mistletoe Sprays, red and green ornaments and ribbon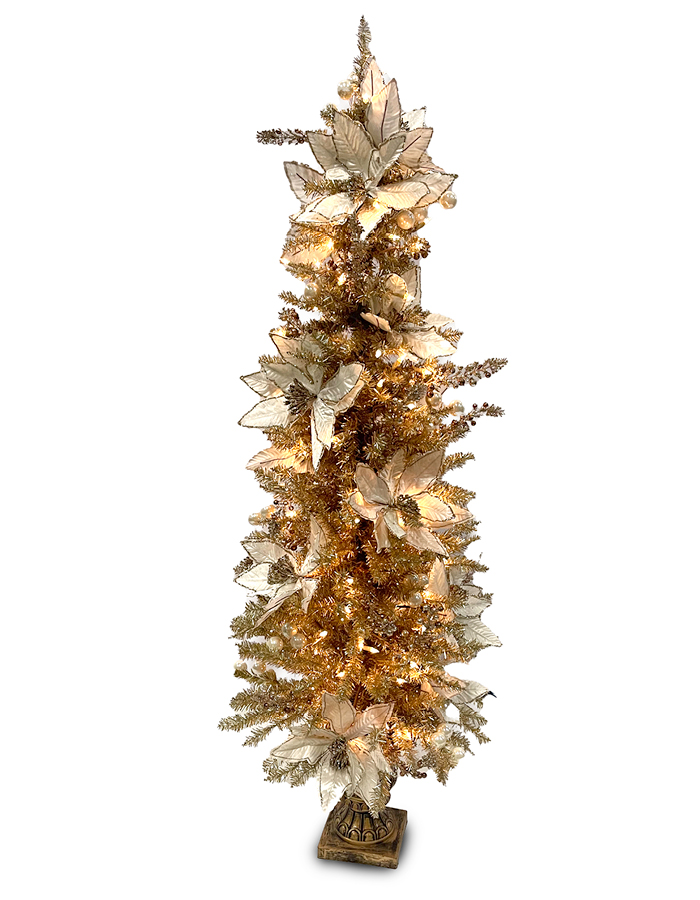 5ft / Gold Tree with lights and Urn Pot

 

Gold and White Color scheme 

 
White Poinsettia Decorations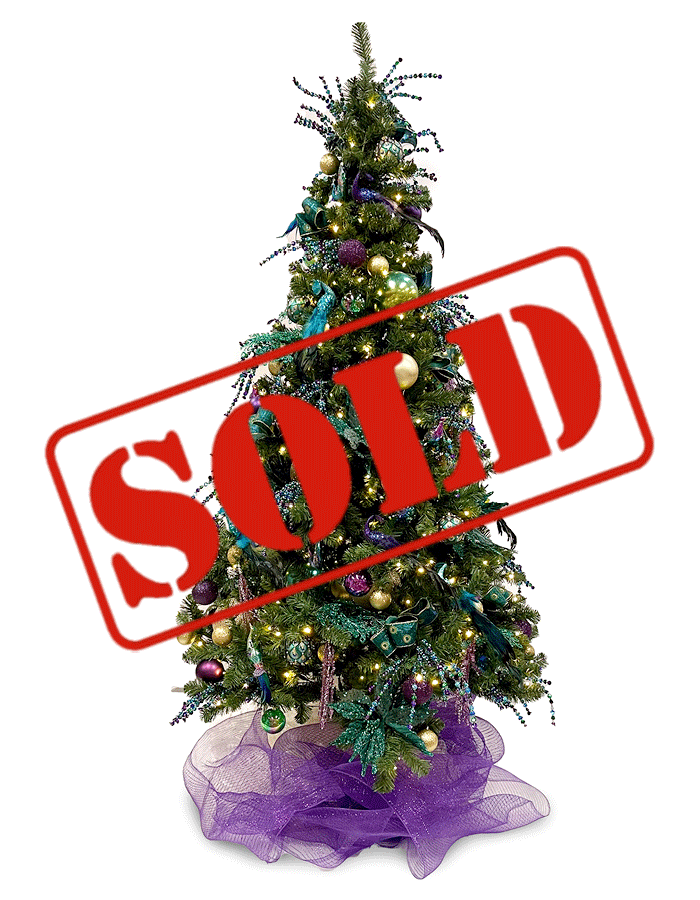 Tree #17
Teal You Feel Fabulous
7.5ft / Green Tree with lights

 

Teal and Blue Color scheme 

 

Peacock ornaments with Teal, Purple, Gold and Blue Decorations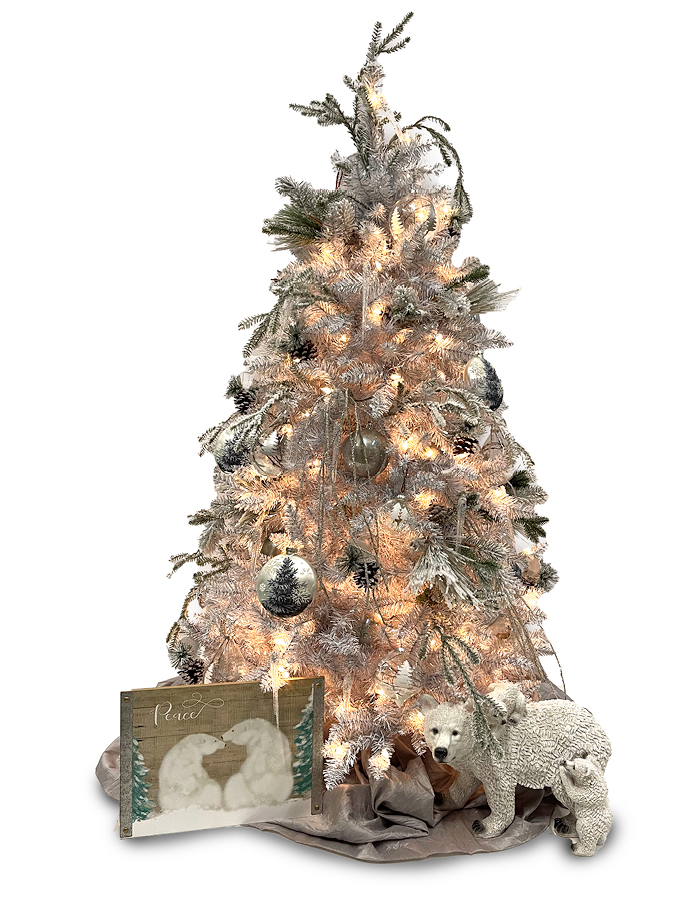 Tree #18
The Polar Bear Express
5ft / Silver Tinsel with lights /

Tree with Box (Statue and Sign)

 

White, Silver and Teal/Green color scheme

 

Pinecone/Bear ornaments Winter Polar Bear Sign "Peace" Polar Bear Statue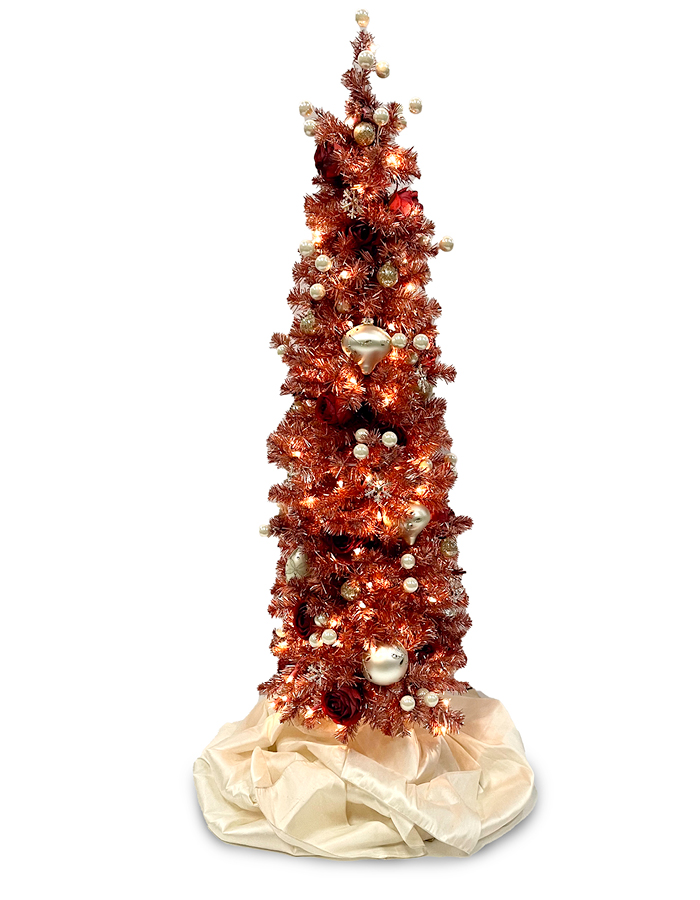 5ft / Rose Tinsel Tree with lights 

 

Rose, Red and Pearl Color scheme Red Roses and Cream-Colored Ornaments 

 

Comes with Cream Fabric for Skirt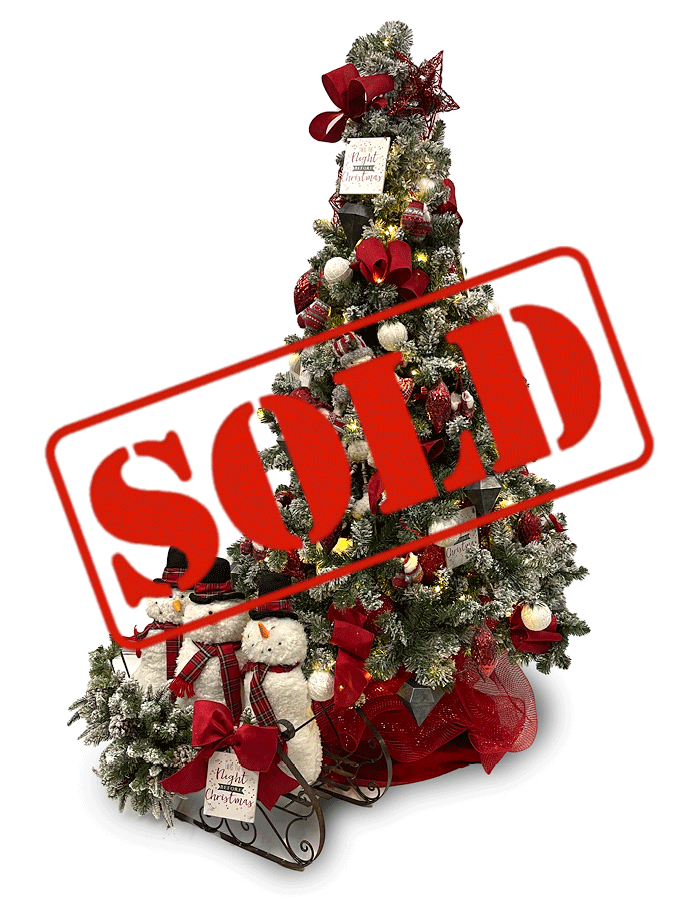 Tree #20
Twas the Night Before Christmas
7.5ft / Green Tree with lights

 
Red and White color scheme Red and White ornaments with Snow Couples

 

Comes with Tree, Sleigh, Snowmen and Tree Skirt